Exklusive Albumpremiere: Trachimbrod – Leda
2012 hat die schwedische Screamo-/Shoegaze-Band Trachimbrod ihr Debütalbum "A Collection Of Hidden Sketches" veröffentlicht, gefolgt von der Split 12″ mit Sore Eyelids 2013.

Nach Touren unter anderem mit FJØRT haben die fünf Herren aus Stockholm und Malmö nun für den 21. April bei Through Love Records ihr Zweitlingswerk "Leda" angekündigt, mit dem sie nicht nur ihren typischen Sound beibehalten haben, sondern welches ihr außerdem bereits jetzt exklusiv bei uns streamen könnt!

Die Band:
"I would say that the main theme for the lyrics and music follows a path of delivering a portion of criticism to the negative byproduct from the nihilistic ideas and values we are left with to deal with our selfs in todays post-modern secular society. Hopelessness, confusion and fatigue over the lack of truth, community values and meaning in a spiritually empty individualistic consumer society and material worldview. A concern for the unsettling fascist, totalitarian values that are growing because of the neglecting side of our culture. Trachimbrod is nothing more then a tool of projecting these thoughts and feelings in a constructive way."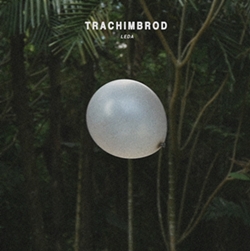 Die Tracklist:
01. Rum Utan Fönster
02. All Är Som Det Alltid Var
03. Tärd
04. Begränsad
05. Medskyldighet
06. Ett Annat Liv
07. Vi Två
08. Hjärnspöke
09. Saker De Säger
"Leda" kann hier vorbestellt werden.
Facebook: https://www.facebook.com/trachimbrodofsweden
Website: https://trachimbrod.bandcamp.com/